There is a point of no return when it comes to wet electronics.
Unfortunately, this Motorola MagOne BPR40 from an automotive recycler in Illinois set a bit too long before coming to the radio repair center. As you can see in the photo the rust and corrosion overtook the component board. It fell out of the radio like confetti, and the tech could immediately see the radio was non-repairable. As you probably guessed, the ladies here at Delmmar hate making those calls, letting customers know their radio has been deemed non-repairable.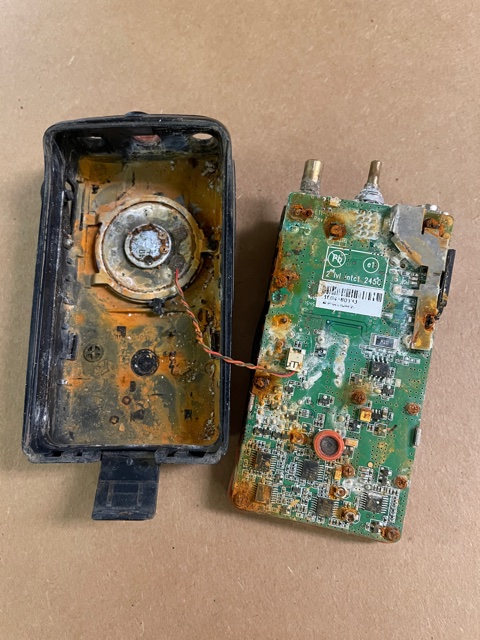 Here are a few wet radio TIPS :
If you know your radio has gotten wet, remove the battery, and dry the radio with a soft cloth. Then get the unit to the radio repair center as soon as possible. If the techs can get to the radio right away, they can clean any visible rust or corrosion, working to prevent further damage. Your battery may be damaged as well. Include it with your radio (unattached), and Delmmar's technical staff can check it also.
If the radio and battery have been submerged, it is likely the battery will need to be replaced.
Just like other electronics, you can put your device in a bag of rice, or use an Evap-Bag to aid in the drying process while it is in route to the repair facility.
We don't know the story behind this 2-way radio, but from appearances it may have been left outside and recently found after several weeks or months of weather. The customer chose to dispose of this radio here at the repair center, so there was no charge for return shipping.
You can always find a copy of Delmmar's current repair form on our website delmmar.com and eradiostore.com.