Push and hold the PTT button while transmitting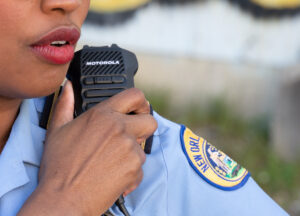 One common mistake many radio users make is starting to speak before they've completely pressing the PTT (push-to-talk button), or releasing the PTT before their transmission is complete. You might only miss a few words, but those words could be critical. It very well could be a matter of safety. Push the PTT and give yourself a moment before speaking. Hold the button until you are finished.
Speak clearly in your normal voice
Shouting CB-style can cause distortion of your voice, just as speaking to softly can make your communication non-discernible. Speak clearly, enunciate, and at a normal volume for best communication when using a remote speaker mic.
Hold the remote mic 1-3″ from your mouth
It is a common mistake for users to have their mouth too far away from the microphone. This can make it harder to pick up your voice, and also leave you open to environmental noise.  Having the mic too close to your mouth can also be a problem. This unwelcome mouth noise and breath sounds could be a distraction to those receiving your transmission. Practice keeping the microphone a nice 1-3″ from your mouth, and speak clearly.
Don't wrestle the microphone around in your hand
While most modern remote microphones have some noise suppression, you should still avoid unnecessary movement while transmitting.
Connect the microphone securely to the radio
If your microphone has a two-prong plug, make sure it is completely seated before turning on the radio and beginning to communicate. You should feel a small snap when it seats into place correctly. Avoid unnecessary plugging and unplugging, over the course of time this will lead to a bad jack connection. Plug straight in and pull straight out, refraining from side-to-side wobbling, which can wobble out the jack. If possible leave your audio device plugged in all the time. If your radio has a multi-pin connector, be certain you security to the radio. Clean your contacts with a pencil eraser for best connection.
Always have your radio turned off when attaching any audio device
Most modern radios will sense the audio device and react accordingly. In the event you plug the device in with the radio turned on, many times you will experience problems such as temporary or intermittent voice activation (VOX), or an unresponsive audio device.
Keep your microphone clean
Read our blog post about Hygiene for more info.
Most radio models have remote speaker microphones available. Call us if you need help determining which mic would work best with your model.