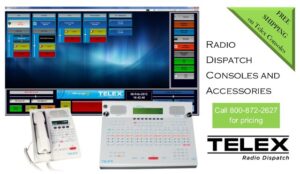 Delmmar is a Certified Dealer for Telex Dispatch equipment.
Call or email for pricing and information on these products, 800-872-2627.

Products including these and more:
C-6200 18 line VoIP Console
IP-1616 8 line VoIP Console
IP-2002 2 line Console
IP-224 Gateway
IP-223 IP adaptor panel (discontinued)
C-2000 Single Line Console
C-2000-HS Single Line Tone Remote w/handset
C-2002 2 line Tone Remote w/handset
C-1616 2, 4, or 6 line Tone Remote Console
Marked under the names of Telex, Telex-Vega, and Vega, manufactured by Bosch.