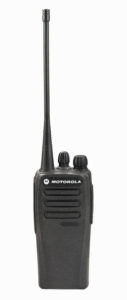 The newest radio to come along is the Motorola CP200d. It is part of the widely touted MOTOTRBO digital/analog line of radios. Trbo radios are a great transitional radio into the digital world. You can add them into your fleet as an analog radio to match your existing radios, and then one day when you are ready they can be upgraded or reprogrammed to be digital. Or even be digital or analog on a per channel basis. Much like the existing Motorola CP200 radio, the "d" model is available in either VHF or UHF and has 16 channels.
The CP200d is available from Motorola Channel Partners (a fancy way of saying authorized dealers) in two versions:
1. Analog only model, upgradeable later to digital (call for upgrade cost).
2. Digital/Analog model. Straight out of the box the radio has both features.
The advantages of digital are much like you would have experience when changing to a digital cellphone a few years ago, 40% longer battery life, clearer transmissions, and a small to moderate increase in range. Good news is the radio uses the same batteries and chargers as the standard CP200. Some audio accessories will be backwards compatible such as the PMMN4013 remote speaker mic. Many other audio accessories are available for the digital models. Watch for the digital symbol to be on the accessory to insure good functionality with the digital radio.
The analog model is priced pretty much the same as the standard longstanding CP200 radio. The digital version of the CP200d is $50 higher. Also new on the scene are the CM200d, CM300d, and XPR2500d mobiles.
The standard CP200 you have known for several years is no longer available. We will continue to repair this model at the radio repair center as long as parts are available.
If you have questions give us a call here at Delmmar Communciations, 800-872-2627. We are always happy to help.
Have a great 2014!
cl