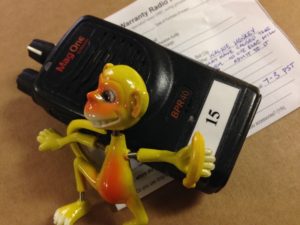 This radio arrived with a note saying "Walkie Monkey may have caused the problem… no one else will admit to it."
As an added surprise Walkie Monkey arrived with the #BPR40 radio and he's not talking. So we have no idea what problems he may have caused!
Customers often ask what they should include with their radios when sending them to Delmmar's radio repair center. Short answer is we need the radio and any other accessories you think might be associated with the problem. If you include the battery we can check the date code and run it on the reconditioner/analyzer to see how well it is performing. If you think the antenna or charger may be part of the problem include them too. Oh the other hand, if you feel certain the issue is with the radio alone, just send the radio itself. It is that simple.
Occasionally we receive fun surprises like Walkie Monkey, which brightens our day. The BPR40 radio from sunny California is now in line for repair, and Walkie Monkey continues to have this smirky grin and is maintaining his silence. We think we will keep him here for further interrogation.
If you have questions about two-way radio repair give us a call, 800-872-2627, here at Delmmar Communications. We are happy to help.
#motorolaradiorepair #monkeyproblems #BPR40radio #radiorepaircenter
-cl