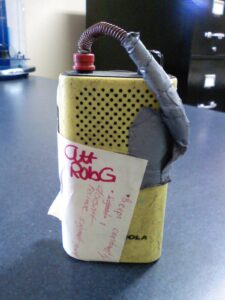 With Summer here we often think of lemonade. Here at the radio repair center it seems we are often tossed a bag of lemons (broken radios) which we promptly squeeze and create lemonade, repaired radios. This little yellow radio arrived one day in the saddest of condition. We couldn't help but take notice of his well-worn exterior, not to mention the funky mess with the taped down antenna. (Couldn't have been talking too far with this one.) No doubt this guy had been working hard for several years. His owner had finally decided it was time to get an overhaul. Happy to report, the little yellow radio was repaired and sent home looking good as new. Now that is what we call lemonade!
Hope your Summer is full of lemonade moments, both literally and figuratively. If you have questions about radios or radio repair, give us a call here at Delmmar Communications, 800-872-2627. We are always happy to help.
Note: The above pictured Motorola Spirit radio model, as of 2019, is no longer repairable due to parts nonavailability.