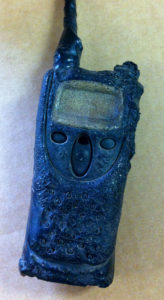 Just take a look at this CP100 radio that arrived at the radio repair center.
Definitely crispy!
No explanation as to how this one became so melted… just a note with the customer's info in the box. Sometimes this is just how it happens… a radio randomly arrives in a dirt little brown box without a repair form, just a business card tucked inside.
This box arrived at the Radio Repair Center in 2014 and was opened to discover this melted CP100 radio. The radio check-in person probably thought the radio was a lost cause. But upon examination by one of our electronics technicians, surprisingly the component board was not in too bad of shape following the meltdown of the external housing. Our miracle working technician was able to replace the front and back housing along with a few other key components to get this radio back to factory spec.
We are often amazed by our radio technicians who seem to defy odds and get seemingly hopeless radios back to good working condition. We have to be honest here, not all crispy radios can be repaired. However, just when you think all is lost… your radio may indeed be repairable. We just wish we could have been on the other end and see the face of the radio owner when they opened their box from the repair center.
~cl
2020 note: Repair parts are no longer available for the original CP100 radio. If you are needing a good replacement radio give us a call here at Delmmar Communciations, 800-872-2627. We are always happy to help.